What does
Advanced SystemCare 6 PRO do ?

Advanced SystemCare 6 PRO provides automated and all-in-one PC care service with Malware Removal, Registry Fix, Privacy Protection, Performance Tune-up, and System Cleaning capabilities. It also creates superior and safer online experience with the latest Surfing Protection and Internet Boost technology, ensuring you top online security and maximum PC performance.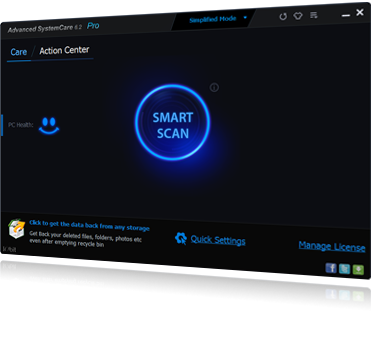 What we promise
Media Review
"There's nothing worse than a computer that is bogged down so much that it impedes your ability to work or play games. Advanced Systemcare aims to remedy whatever ails your computer by not only cleaning up junk files, malware, and invalid registry entries, but by giving your computer a boost to optimize your PC experience."
- Cnet
Customer Review
Jane McClain
2012

"The Advanced-System Care Pro keeps my computer well cleaned. Not only that, their customer service is excellent. They persevered with courteous help until I was able to solve my problem of sending a gift of this ASC service to another person. This is evidence of a good company."
Money Back
You're fully protected by our 100% Money Back Guarantee and you WILL see a significant improvement in your PC's security and performance WITHIN 30 DAYS, or we'll send you a full refund. No questions asked.